5 reasons you should get a Thatch & Stone Fire Pit this autumn 🍂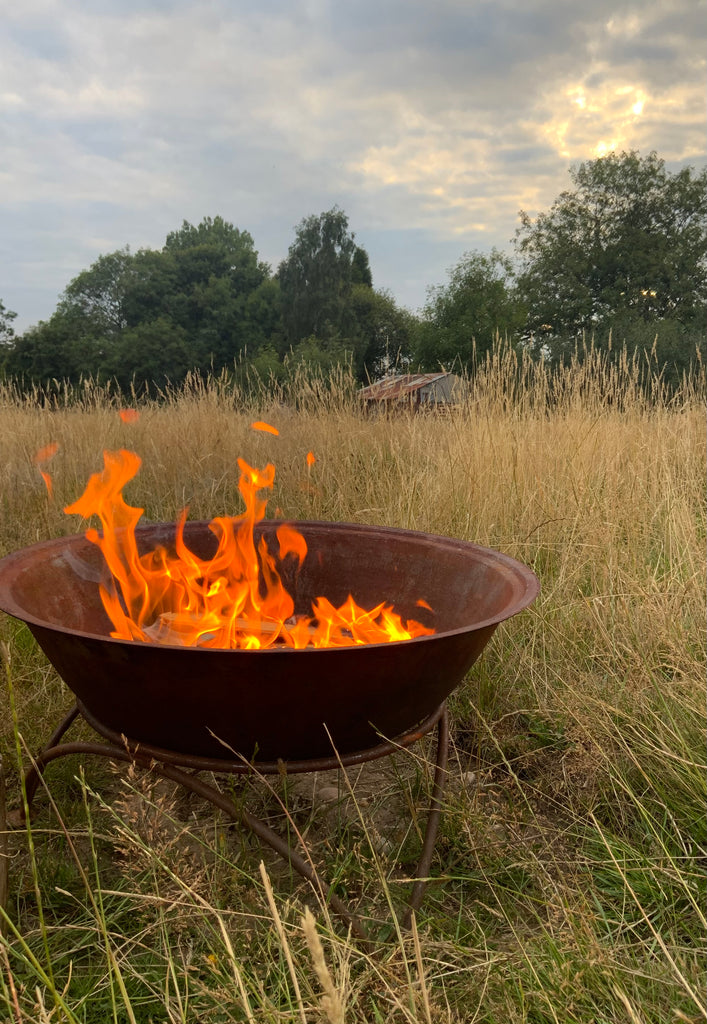 Whether you're cosying up for a romantic evening for two, enjoying a catch up with friends or unwinding together as a family, there's no doubt that a little bit of fire gazing pleases everyone

 

5 reasons you need a Thatch & Stone Fire Pit
1. A feature garden item this autumn
Don't let the darker evenings draw you indoors earlier - continue enjoying your garden patio space through the autumn and winter months with Thatch & Stone's new collection of Naturally Pre-Weathered Copper Fire Pits.
The Corten Steel's rustic orangey-brown finish naturally blends in with any garden and compliments all outdoor themes. An ideal material for low maintenance and durability, this new collection is designed to be long-lasting and beautifully timeless. 
With a range of sizes and designs available, these fire pits are highly versatile and can either be incorporated into the permanent landscape of your garden as focal/ centre point or can simply be moved around to suit your seasonal needs. 
Not only is it beautifully timeless, Corten Steel is the ultimate material for low maintenance and durability, meaning no need to move indoors during winter. Heat protector mats also available.
 

2. Bring a bit of your UK holiday home to your garden
The last couple of years have seen a newfound appreciation of the British countryside for many people who usually holiday abroad. With this, we have seen a wealth of new and unique accommodation options pop up, offering a host of alternative facilities encouraging more time spent outdoors. 
From yurts & tipis to shepherd's huts & hot tub lodges, a common outdoor feature typically provided at most of these is a fire pit, and - if you're anything like ourselves - building, lighting and enjoying late evenings in front of the fire is always a highlight of the trip!
Why not recreate those moments in the comfort of your own garden space this autumn/winter?
3.  A great space to cook outdoors
Not only great for your typical campfire treats like toasted marshmallows and popcorn, but also great if you enjoy traditional outdoor cooking. 
We love to cook outside a couple of times a week, and, although it requires a little planning, it is definitely worth it! 
One favourite of ours so far is a tomato-based, creamy tagliatelle with paprika smoked salmon & sourdough garlic bread.
It takes us around 15 minutes to cook & 5 minutes to devour, but is made and enjoyed with love whilst watching the sun go down on a Wednesday …    
a marvellous way to brighten up the middle of the week. 
Grill plates are available to transform your pit into the ideal BBQ for alfresco dining.
4. Planning lots of parties?
Many of us are still making up for celebrations missed over the past couple of years. Making memories with our loved ones for us to look back on and treasure has never seemed so important.
Transform this year's Halloween festivities by serving up some Mummy Finger Hot Dogs, Jack-O-Lantern Cheeseburgers & Candied Corn Cobs and telling spooky stories around the fire:          
Grab a blanket, some sparklers and the marshmallows & cosy up around the warmth of your fire pit to admire the dazzling November firework displays. 
To finish off the year  …                                                                                        
Why not try roasting your chestnuts on a Thatch & Stone fire pit this Christmas?
5. A (darn good) reason to stay outside for longer … 
We've all heard of the 'Winter Blues' and with more and more people suffering with various types of Seasonal Affective Disorder (SAD), the importance of spending time outdoors could be discussed more.
Integrating nature into our daily routine and regularly spending time surrounded by green space is known to reduce feelings of stress, anxiety and loneliness as well as improve both our physical and mental health. 
During a cold Sunday afternoon, why not set yourself aside an hour or two to spend in the garden, kept warm by the fire, watching the birds and squirrels in the trees?
 #outdoortherapy #ecotherapy #ShiftYourMindset
See the full Collection here https://www.thatchandstone.co.uk/search?q=Fire+pit